This article is a republished news article, created and originally published by the International Centre for Integrated Mountain Development (ICIMOD) under a Creative Commons license. Read the original article here.
Author: Utsav Maden, Knowledge Management and Communication Officer, ICIMOD
Nepal faces a double whammy of floods and landslides every year. Often considered a secondary hazard, landslides are usually triggered by incessant rainfall falling upon hilly and unstable slopes in Nepal's predominantly mountainous terrain. As Nepal lies at the cusp of the Indian and Tibetan tectonic plates, it is more susceptible to earthquakes and resulting landslides. Unplanned road building and construction along unstable mountain slopes on relatively young mountain terrain compound this problem further.
Landslides ravage lives and livelihoods across the mountains and disrupt traffic across snaky mountain roads in-country, bringing movement to a standstill and delaying any relief and rehabilitation efforts. In 2022 alone, Nepal's Disaster Risk Reduction Portal reported 327 landslides across Nepal, causing 99 deaths and adversely affecting 992 families; 19 people went missing, and 88 were injured. Government estimates put economic losses from landslides in 2022 at around NPR 88 million.
Despite the damage incurred by landslides each year, there is limited information on the Nepal's historical landslides, land surface characteristics, vulnerability, and rainfall patterns. Availability and open access to such information can help characterise landslide hazards and risks to decision-making and disaster risk reduction processes.
We are looking to plug this information gap by working with NASA's Goddard Space Flight Center (GSFC) to develop a landslide mapping system and a customisable landslide forecasting system for Nepal.
Mapping and forecasting landslides
Researchers at NASA GSFC have been using a multiscale approach to map and forecast landslides at the local, regional, and global levels. To calculate the relative likelihood of a landslide occurring, GSFC's Landslide Hazard Assessment for Situational Awareness (LHASA) model incorporates global landslide inventories with precipitation data within a machine learning framework. The model provides a near-real-time overview of landslide hazards worldwide and has been tried and tested along the US Pacific Northwest and the Mekong region.
We are complementing NASA GSFC's work on landslides towards developing a customisable landslide mapping and forecasting system for Nepal. The system will support the development of a landslide inventory for Nepal to aid decision-making on multiple fronts ranging from hazard zonation to rapid response research. The system will also be able to generate early warnings on high landslide hazard probabilities.
Pukar Man Amatya, NASA GSFC, said, 'The system will forecast landslides using event-based landslide inventories and by taking into consideration antecedent conditions suitable for Nepal and precipitation forecasts generated specifically for the HKH region.'
Our own High-Impact Weather Assessment Toolkit (HIWAT) – Nepal, developed by the NASA SERVIR Applied Sciences Team and further customised for Nepal, generates forecasts on rainfall, temperature, wind, hail, and lightning strikes during the monsoon period. HIWAT will provide the precipitation forecasts to feed into the LHASA model in the upcoming monsoon.
Amatya adds, 'Together with ICIMOD, we are consulting landslide experts in Nepal to realise the system.'
Consultation on a landslide monitoring and forecasting system for Nepal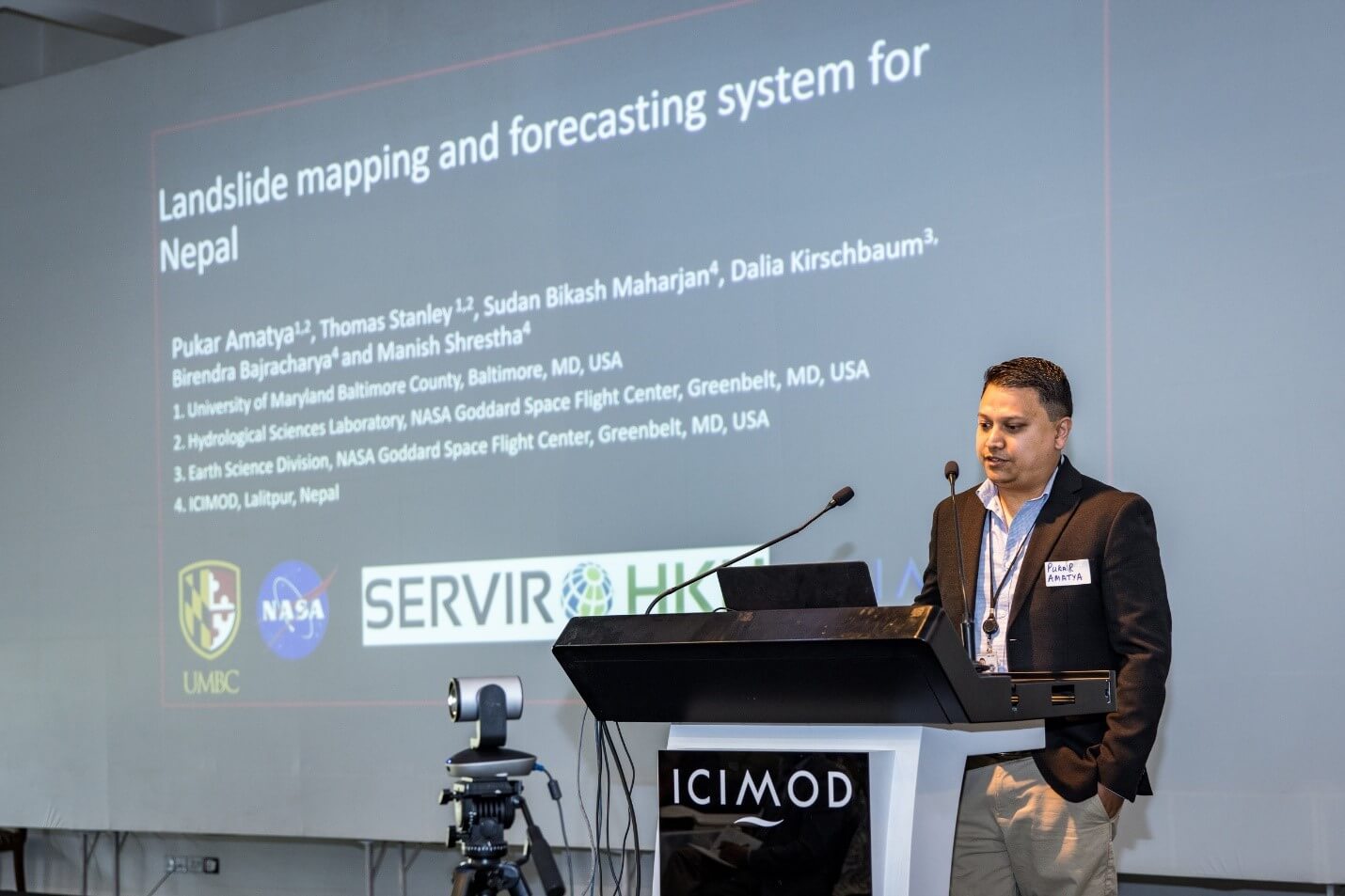 In November 2022, we shared our planned activities and methodology for the system and discussed current needs with relevant stakeholders working on landslide studies and disaster risk reduction in Nepal. Following discussions on the development of a landslide monitoring and forecasting system for the country, participants suggested specific approaches to setting up and operationalising the system:
Follow the Nepal government's existing technical requirements for better synergies with state, province, and municipal governments and disaster management and response agencies.
Establish a systematic process for identifying, tracking, and predicting landslides.
Work with the National Disaster Risk Reduction and Management Authority to establish a steering/technical advisory team.
Ensure the system uses high-quality parameters, including engineering geology, geomorphological information, and a digital elevation model.
Integrate local and international technical information and a thorough understanding of landslide susceptibility parameters.
Ensure the system includes a mechanism for end users and beneficiaries to provide feedback.
Strategise communication of landslide hazards, risks, and early warnings.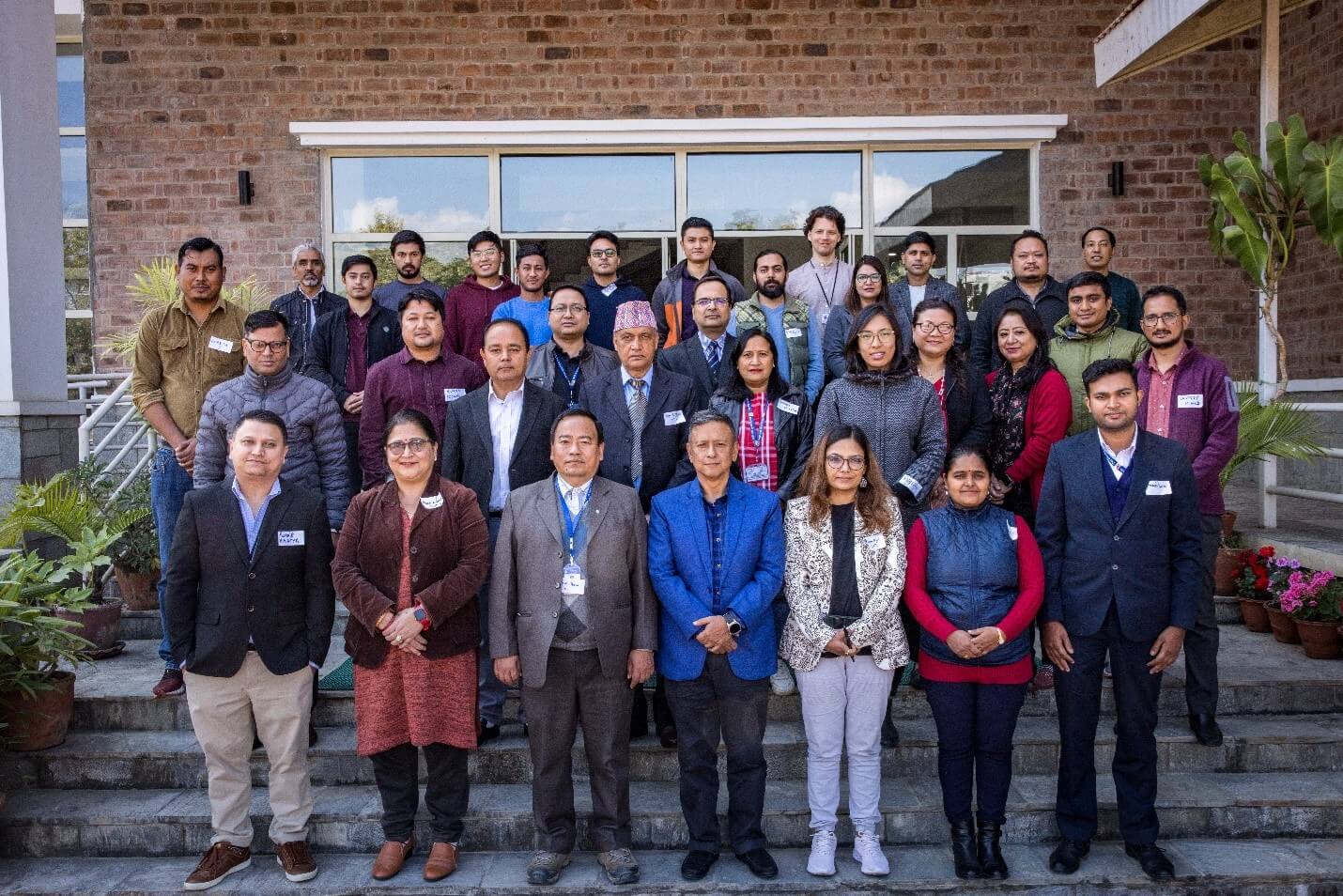 Along with NASA GSFC and local partners, we plan to set up a technical advisory team to support the implementation of the system. We will pilot the system in Nepal's Karnali Province during the upcoming monsoon, where we are already working with partners to establish, run, and manage a multihazard early warning system.
Representatives from the Danish Red Cross Society, Department of Hydrology and Meteorology, Department of Mines and Geology, National Society for Earthquake Technology – Nepal, Tribhuvan University, United States Agency for International Development (USAID), USAID TAYAR Nepal, Youth Innovation Lab, and Water Resource Research and Development Centre joined ICIMOD and NASA GSFC officials at the half-day consultation organised at ICIMOD's campus in Kathmandu, Nepal.
Copyright © 2023 International Centre for Integrated Mountain Development (ICIMOD). This work is licensed under a Creative Commons Attribution Non-Commercial, No Derivatives 4.0
Main article image: A landslide on the right bank of the Bhote Koshi River near Hindi Village in Sindhupalchowk District, Nepal. Unstable mountain slopes on relatively young mountain terrain experience landslides that are often triggered by ground movement resulting from rainfall and/or road construction. (Photo: Sudan Bikash Maharjan/ICIMOD)